Field Day 2017 is now in the record books. This was another great year for Field Day. The weather was great and we had some really good foot traffic this year.
We operated as a 2A with a GOTA station. We did ok on points but one thing I have learned about this group is that they are not a contesting group but more of an educational group. The points and details are below though.
We had someone sitting with us almost the entire time asking questions. We had Hams that have not been on the air in a long time get back interested. We had a new Ham sit for a few hours and make contacts on HF. It is so great to be able to help fellow Hams that are just getting started. It is so rewarding to see that excitement of both Hams and the public.
We had a mixture of antennas this year. We had the HF vertical on top of the tower, a 1/2 wave 80 meter end fed, we tried a horse fence antenna with not so great results, we are still unsure why.
After the wind died down some on Saturday we attached another 80 meter half wave end fed to an 8ft marketing balloon and created a vertical 80 meter half wave vertical. It worked mush better than expected.
I would like to thank everyone that came out and helped to setup and teardown and everyone that came out to show support.
Doing field day is the parking lot of Walmart is the best way to get the word out about Amateur Radio. It sounds a bit odd but the results speak for themselves.
I created a photo album on the site here. If you have pictures from field day please upload them or send them to me to upload.
Early Sunday morning I did a short drone flight around our setup. I placed it up on youtube unlisted and below you can take a look.
How we did
We ended up with a total of 581 QSO points and 1,050 bonus points.  That was from 267 Phone QSO's and 12 Digital QSO's.  Below is the output from the logging program.  I also took a couple screen captures of the map and the main logging screen so you can see how far we reached (or how far we didn't reach).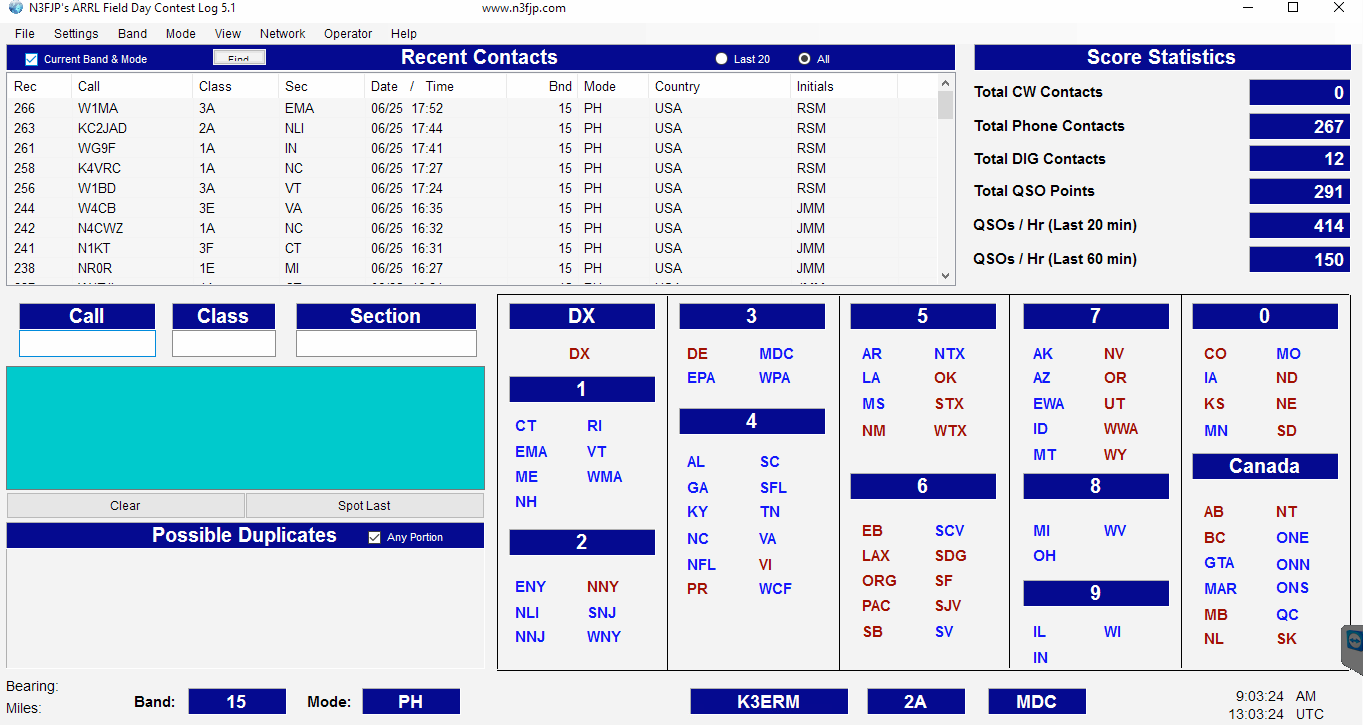 ARRL Field Day

1. Field Day Call Used: K3ERM               GOTA Station Call: K3DO

2. Club or Group Name: Frederick Amateur Radio Club

3. Number of Participants: 7

4. Number of transmitters in simultaneous operation: 2

5. Entry Class: Check only one.

X A. Club or non-club portable
  B. 1 or 2 person non-club group portable
     List calls of operators: 
  C. Mobile
  D. Home station commercial power
  E. Home station emergency power
  F. Emergency Operations Center

6. Check All power sources used.

  Generator
  Commercial mains
X Battery
X Solar
  Other (list) 

7. ARRL / RAC Section: MDC

8. Total CW QSOs: 0 X 2 =  Total CW QSO points: 0

9. Total Digital QSOs: 12 X 2 =  Total Digital QSO points: 24

10. Total Phone QSOs: 267 X 1 =  Total Phone QSO points: 267

11. Total QSO points: 291

12. Power Multiplier (select only one)

  5 Watts or less and Battery powered = 5
X 150 Watts or less = 2
  Over 150 Watts = 1

13. Power Multiplier: 2

14. Claimed Score: 582

15. Bonus points claimed:  Please check each block as appropriate and
include required proof of points with your submission.  All bonus points
will be verified at ARRL HQ and added to your score.

X 100% Emergency power
X Media Publicity
X Set-up in Public Place
X Information Booth
  NTS message to ARRL SM/SEC
  W1AW Field Day Message
  Formal NTS messages handled (# 0)
  Satellite QSO completed
X Natural Power QSOs Completed
X Site Visited by invited elected official
X Site Visited by invited served agency official
  Educational Activity Bonus
  Youth Element achieved (# 0)
  GOTA Bonus (total bonus points: 0)
X Submitted using the b4h.net applet
X Social Media
X Safety Officer

Total Bonus Points Claimed: 0

16. I/We have observed all competition rules as well as all regulations
for amateur radio in my/our country.  My/our report is correct and true
to the best of my/our knowledge.  I/We agree to be bound by the
decisions of the ARRL Awards Committee.

Date: 07/17/2017

Call: K3ERM

Signature: James Myers

Address: 4222 Catholic Church Rd
Address: Knoxville, MD  21758
Address: 
Address: 

E-Mail Address: mike@k3do.com

 Operating Period: 2017/06/24 18:25 - 2017/06/25 17:56


 Total Contacts by Band and Mode:

 Band       CW   Power     Dig   Power   Phone   Power   Total       %
 ----       --   -----   -----   -----   -----   -----   -----     ---
   80        0     150       8     150      50     150      50      19
   40        0     150       4     150     111     150     111      42
   20        0     150       0     150      28     150      28      10
   15        0     150       0     150      57     150      57      21
   10        0     150       0     150      21     150      21       8
 GOTA        0     150       0     150       0     150       0       0
            --   -----   -----   -----   -----   -----   -----     ---
 Total       0              12             267             279     100


18. List all callsigns of all operators and number of QSO's completed
of the GOTA Station:



 Submission file created by N3FJP's ARRL Field Day Contest Log
 Version 5.1 
 www.n3fjp.com


Mike
K3DO